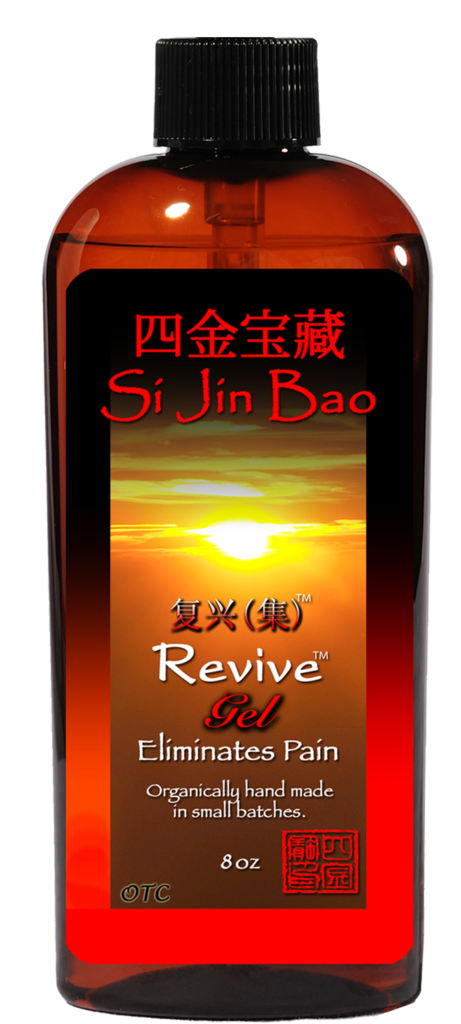 REVIVE GEL 8 oz
$41.55 $36.55
Special One-Time Offer - save $5.00
Relief™ and Revive™ are an incredible duo that work together to relieve pain both internally and externally.
Handcrafted and based on the centuries-old ancient doctrine of 痹证 bì zhèng, Revive™ is suitable for any skin type, even the most sensitive.
NEED A LITTLE ENCOURAGEMENT? read these:
"Natural products that actually work and heal.
You must try this." - Rebekah J.
Product is the best on the market. Works better than anything ever used. Love it! Takes away pain and stops muscle spasms, reduces or removes joint pain. Excellent for muscle cramps. Highly recommend.
I've used this product for over a year and it works just as they write it does. It works within minutes of applying it to the painful area. I will continue to use it because I have arthritis in both knees and (it) gives me relief from that pain.
The Revive has helped me with growing pains in my legs.
Because of blood thinners, I bruise easily. This helps them go away faster. Great for bruising.
I keep this on hand in my son's bjj gear bag for any aches or pains occurring at the gym and tournaments. He (9yo) swears by it.
I had a hard fall and started using Revive immediately after; it helped with pain but also I experienced no bruising at all–it is amazing
I was introduced to Revive by a friend, while experiencing pain especially due to stress. One night I had the flu and was coughing so hard that I had terrible pain in the chest. No matter what I took neither the cough nor the pain would go away. I decided that I was going to use revive for the pain. To my delight both the pain and coughing stopped immediately. From that night I use revive whether it is for just the common cold or the flu, or any other ailments. I love Revive.
Revive DOES work on all pains, I personally do not go anywhere without it. We will use it for coughs (rub in the chest) any bruising, any pain- can also help with teething pain, ear pain (rub under the earlobe), sprains, strains, post surgery to reduce pain and heal bruising faster. THESE are a must in your home care kit. We have not had to use any over the counter therapies in YEARS because these products work so well to heal the problem- they do not just treat the symptom. Thank you.
I have a patient with COPD with burning and painfull swelling of ankles. They would get hot, red and purple. I used acupuncture, bleeding and herbal formulas and got acceptable results. Not until I introduced Revive 3x a day did dramatic improvement happen. "…In one week I have no more fiery burning!
Stay focused and finish checking out. We're here if you need help!